Kosovo Albanian Confesses To Killing U.S. Airmen
: "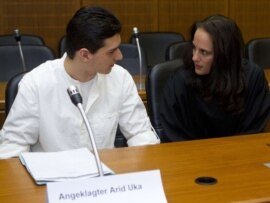 A Kosovo Albanian man has confessed to shooting dead two U.S. airmen and wounding two others at Frankfurt airport in March.
The man, 21-year-old Arid Uka, told a German court on August 31 that he was inspired by Islamic extremist propaganda on the Internet.
He confessed to shooting U.S. airmen at point-blank range as they prepared to board a bus at Frankfurt airport, saying he wanted revenge for U.S. operations in Afghanistan.
Prosecutors have said there is no evidence he was part of an organized terrorist network.