Macedonia walks out of Nato talks |
Guardian.co.uk, April 4, 2008k
,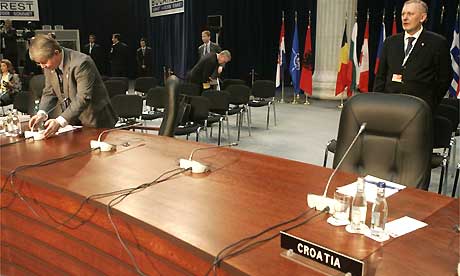 The position reserved for the Macedonian delegation at the Nato summit is left empty after the country's officials decided to leave the talks. Photograph: Michel Euler/AP
"The tiny state of Macedonia today said it would walk out of the Nato summit after Greece blocked its bid for membership of the military alliance.
Officials from the former Yugoslav republic decided to leave the conference – taking place in Bucharest, Romania - when Nato declined to invite it to join the 26-member bloc.
The Macedonian foreign minister, Antonio Milosovski, told reporters that 90% of his people strongly supported membership. He said officials needed to show solidarity.
'The Macedonian delegation will leave the summit today,' he told a news conference on the second day of the three-day meeting. 'It is necessary to be with our people. This is a difficult time for a small nation.'
Macedonia, which broke from Yugoslavia during the Balkans crisis in 1991, has the same name as Greece's most northerly province.
Athens insists it must call itself New or Upper Macedonia amid Greek fears that its neighbour has territorial ambitions for northern Greece.
Nato is keen to bring in Macedonia, along with Croatia and Albania, as a way of ensuring stability in the Balkans.
Croatia and Albania present no problems, but Macedonia's Nato aspirations have become entangled in its acrimonious dispute with Greece.
Nato says Macedonia can join once that argument has been resolved.